St Teresa's Catholic Primary Academy is a school with a richly diverse population. Our warm, caring family is made up of children and staff who are British, Indian, Polish, Slovakian, Czech, African to name but a few. The celebration of diversity is an important feature of our academy, whilst maintaining a strong Catholic Ethos.
Mission Statement
St Teresa taught us to do all things with great love. With Christ as our light, we aspire to achieve great things in our work, play, prayer and service to others. Our academy prepares pupils to take their places in a multicultural society, developing in them a sense of peace, justice and respect.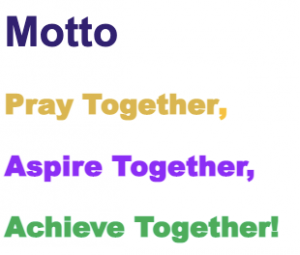 Our patron saint St Teresa (Thérèse of Lisieux ) is known as a Doctor of the church "If every tiny flower wanted to be a rose, spring would lose its loveliness." Pope St. John Paul II
named St. Thérèse of Lisieux a Doctor of the Church because of the powerful influence of her spirituality, known as the 'Little Way'.
Our pupils are challenged to find Little Ways to show our Christian values each day.
We have adopted the Values and Virtues from our diocese Catholic Pupil Profile and these form our half termly Values lessons and awards. .
Catholic Pupil Profile